Below an example MCCB brief structure, working principle, the use of circuit breakers and selection methods.
Breaker consists of three basic components, i.e. the contact, release, and various interrupter system, including over-current release, voltage (undervoltage) release, heat release, shunt trip and a free trip.
As shown in FIG functional diagram of a circuit breaker and graphic symbols. Circuit breaker switch is by manual or electric operating mechanism of the closing, the contacts are closed, the contact trip-free mechanism on the latch in the closing position. When the circuit failure described above, through the respective release mechanism allows free trip operation, to achieve automatic trip protection. Shunt trip the remote control as a breaking circuit.
Overcurrent release for short-circuiting and over-current protection circuit, when the current line is greater than the setting current value, the electromagnetic force generated by the overcurrent release the hook of the trip, the rapid break movable contact spring under tension open to achieve trip function crowbar.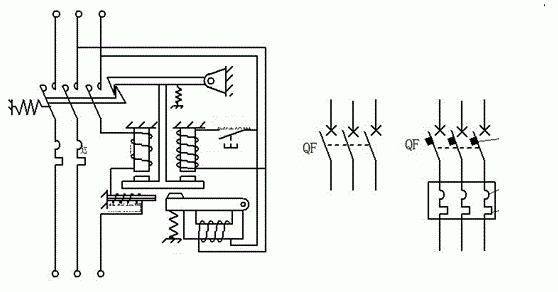 FIG overload protection circuit breaker operating principle schematic and graphical symbol
For heat release line, the working principle and the same thermal relay. Loss of voltage (under-voltage) for voltage protection release, as shown in FIG, loss of pressure release coil directly connected to the power supply, in the pull state, closing the breaker can be normal; when the power voltage is low or when the suction loss of pressure release is less than the reaction force of the spring, the hook spring causes tripping plunger upwardly crowbar trip function implemented.
Shunt release for remote tripping, when the button is pressed in the distance, shunt trip is energized to generate an electromagnetic force, so that it trips the trip.
Different protection circuit breaker is different, according to the need to use should be used. In the graphical symbols may be denoted in their protection, as shown, the circuit breaker graphical symbols marked loss of pressure, overload, three kinds of overcurrent protection.
Low voltage circuit breaker should be selected in view of the following:
(1) the circuit breaker type selection: should be selected according to applications and protection requirements. Frame selection of large rated current or selective protection requirements;; as generally used in MCCB; selected large short-circuit current limiting type DC circuit should control and protection device comprising a semiconductor selected speed DC circuit breakers.
(2) circuit breaker rated voltage, rated current greater than or equal lines, normal operating voltage of the device, the operating current.
(3) Ultimate breaking capacity circuit breaker is greater than or equal to the maximum short circuit current.
(4) undervoltage release nominal voltage equal to the rated lineVoltage.
(5) The overcurrent release current is greater than or equal to the maximum rated load current line.