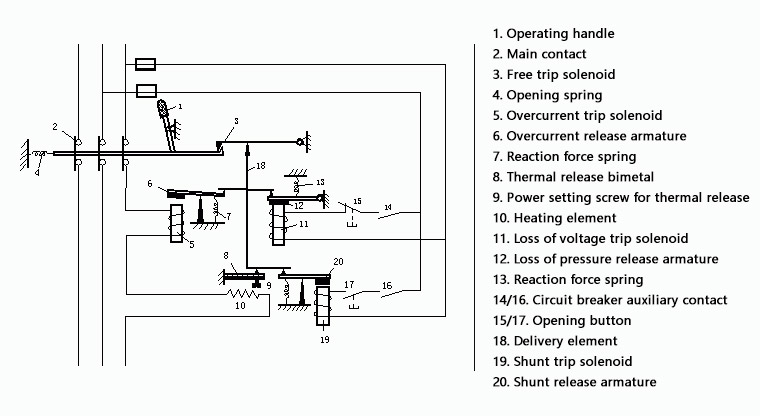 Low-voltage circuit breaker trip unit structure diagram
1. The working principle and structure of low voltage circuit breaker switches
Commonly known as "air switch", low-voltage electrical switch with a main power grid may be switched on or breaking normal load current, motor current, overload current, short-circuit current is not applied to frequent operation low-voltage distribution line as a power switch or a switch cabinet, and lines, electrical equipment and motor protection practice, when an overcurrent overload, short circuit, phase, leakage failure and the like, the protective effect.
2. The classification of low-voltage circuit breakers
By structure: universal frame type, plastic shell type and intelligent module type.
By use: protection of distribution lines, motors, lighting circuits, leakage protection
By series components: a single-stage, two, three, four points
By the current limiting performance: Any general flow pattern, according to the operation
By limiter points: direct handle operation, lever type, solenoid, motor mechanism may be used with or separate AC and DC.
3. The basic structure of the low voltage circuit breaker
Is composed of a low-voltage circuit release, contact system, the arc extinguishing device, a transmission mechanism, an operating mechanism, and other parts of the base frame and the housing.
1). A trip release element (sensing element) receiving signals for low-voltage circuit breaker. If an abnormal situation or signaled by an operator or line protection devices, will release the operation of the contacts by transmitting member cutoff circuit according to the situation Tripping signal. Low voltage circuit breaker trip unit generally overcurrent release, heat release, loss of pressure release, and other types of shunt release.
2). The contact system
3). The arc extinguishing apparatus