On the morning of June 3, the annual international, professional and large-scale photovoltaic event-SNEC 15th(2021) International Photovoltaic Power Generation and Smart Energy Conference & Exhibition was held in Shanghai. More than 1,400 companies from 95 countries and regions around the world participated in the exhibition. Nader brought industry-leading smart photovoltaic, wind power, energy storage, and new energy automotive low-voltage electrical system solutions to the exhibition.
Under the goal of "double carbon", photovoltaic development in China has entered an accelerating period. Photovoltaic power generation is a new generation technology which converts solar energy into electric energy. In order to ensure the long-term smooth operation of large-scale ground photovoltaic power plants, operation and maintenance work has become the top priority of photovoltaic power plants.For different application scenarios, Nader offers both centralized and series PV solutions to photovoltaic customers.



Centralized Photovoltaic Solution - Actively Cut Off The DC Fault Point Within 5ms
The core of the centralized photovoltaic scheme is the centralized photovoltaic grid-connected inverter. The DC current generated by the photovoltaic module is converted from the centralized inverter to three-phase alternating current through the DC manifold.
Nader DC disconnector combined with photovoltaic inverter can actively protect and cut off DC fault points within 5 ms of fault occurrence, effectively and quickly cut off 1.2 times of small current DC fault.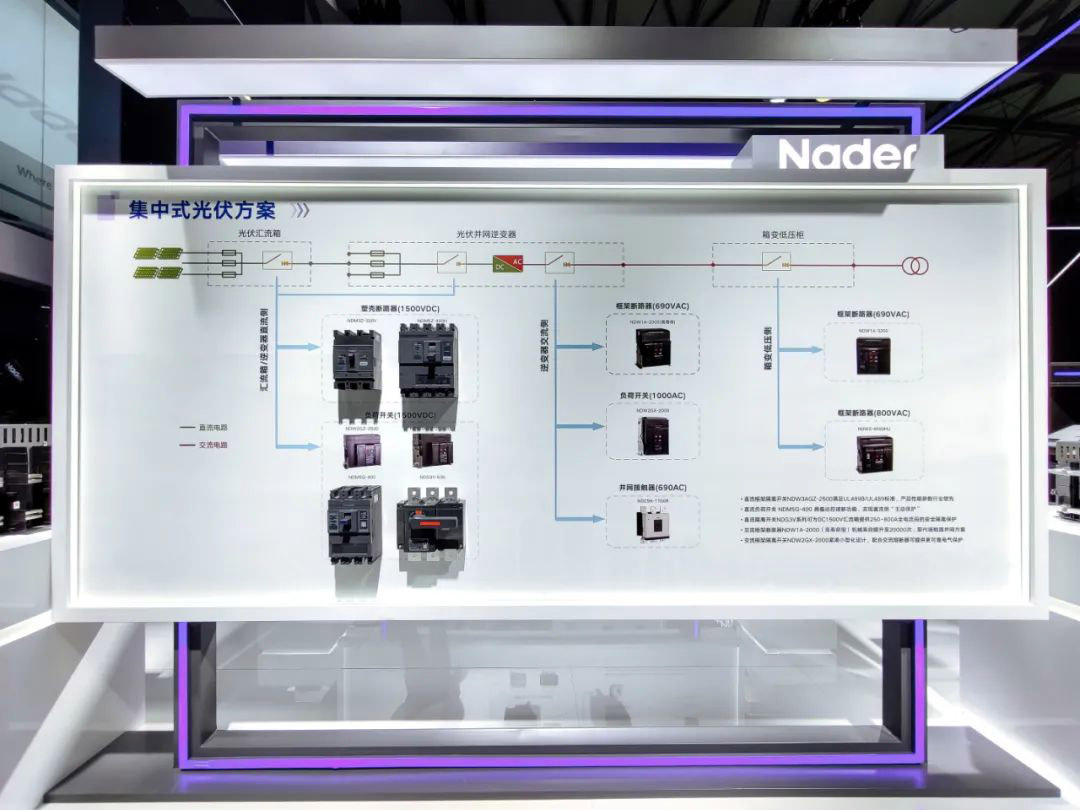 String Photovoltaic Solution - No Arcing During 50kA Short Circuit Breaking
Different from the centralized solution, the string photovoltaic inverter power is relatively small, the inverter is small in size, the installation is flexible, and the usage scenarios are diversified.
Nader AC circuit breaker products strengthen the arc extinguishing effect of terminal housing, which can completely eliminate arcing during the breaking process of short-circuit current of up to 50kA, and effectively reduce the arc fault probability of the box transformer by more than 50%.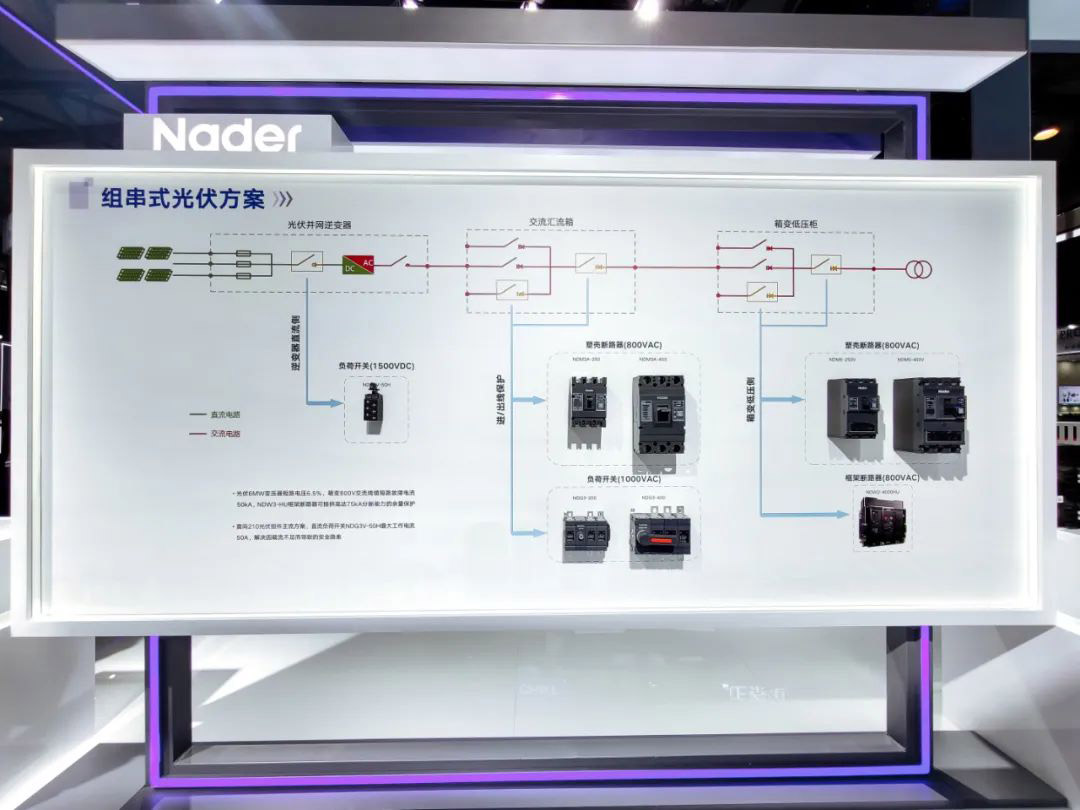 Household Optical Storage Solution - Meet UL North American Market Certification
In addition to being renewable and clean, photovoltaic has the characteristics of low energy density, randomness and fluctuation. With the integration of photovoltaic and energy storage, optical energy storage becomes more and more important.
For household scenarios, Nader has developed a household optical storage solution, and the DC polarity-free miniature circuit breaker NDB2NZ-80 meets UL 1077 standard and the rigorous technical standards of the North American market.
The photovoltaic & energy storage model is not only green and low-carbon, but also realizes the optimal use of solar energy and helps customers minimize operation and maintenance costs.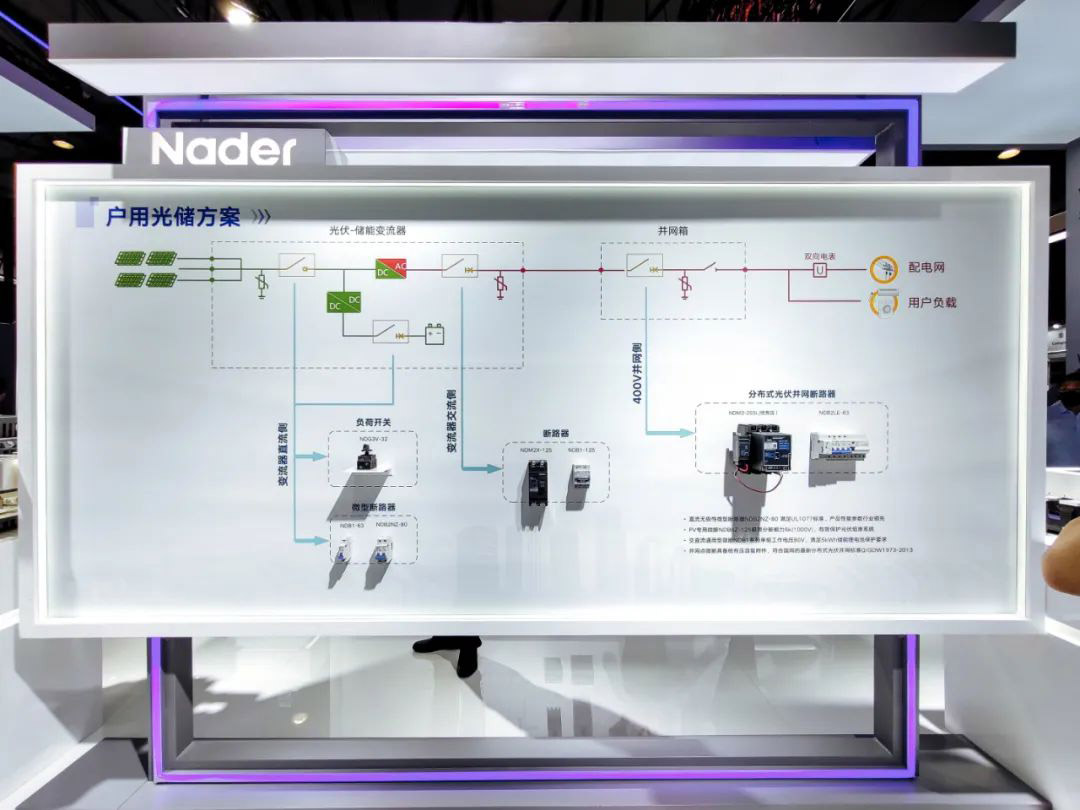 Power Storage Solution - Can Withstand 120kA Fault Current of Lithium Battery
The intermittent and instability of new energy power generation requires the support of power regulation. In order to develop new energy power and meet electricity demand, a large amount of power regulation capacity is required, which creates a huge power storage market.
In view of the serious short-circuit failure of the energy storage battery, the Nader DC isolating switch achieves an ultra-high short-term withstand capability of 120kA·200ms, ensuring that the contacts are stable and safe before the DC fuse operates, and improving the stability of the power system.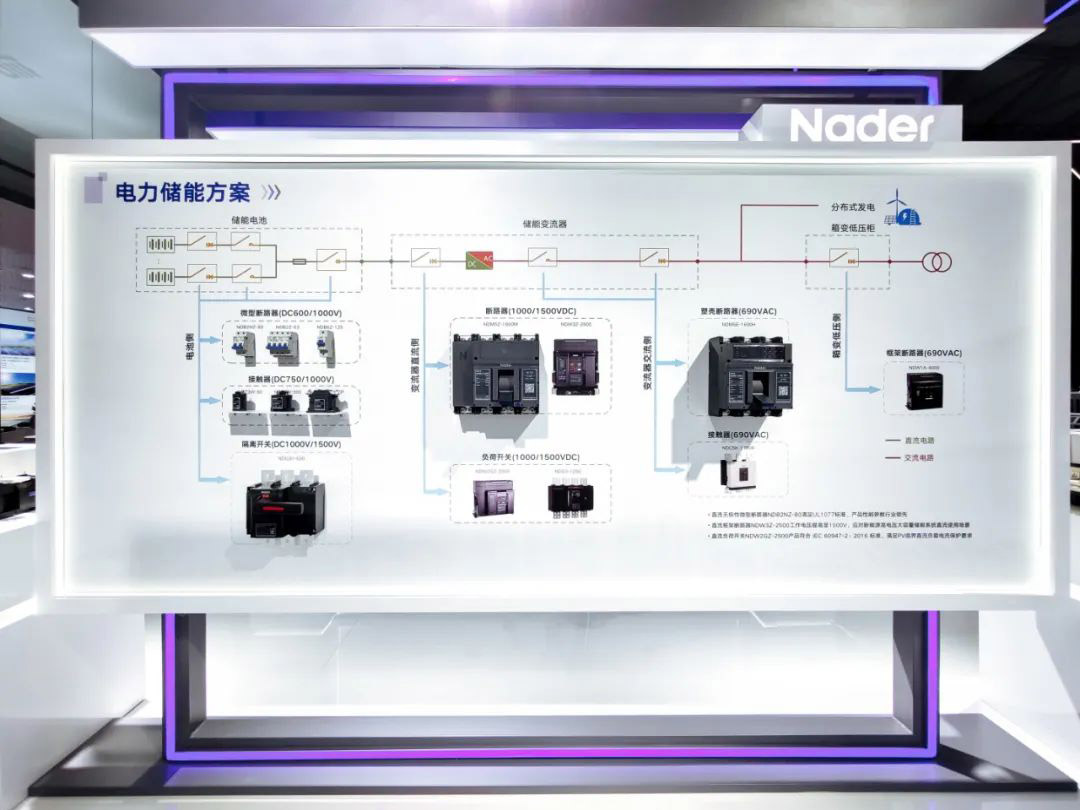 Wind Power System Solution - Meet The Harsh Environmental Requirements at Sea
As a brand-new power generation technology, wind power is recognized as one of the future renewable energy technologies. High-performance wind power generation systems place extremely high requirements on the quality and reliability of the components used, and electrical equipment is particularly important.
The Nader offshore professional air circuit breaker meets the stringent environmental testing standards of NB/T 31094-2016, adapts to extreme environments such as high and low temperature, high humidity, strong vibration, corrosive gas, etc., and its service life is increased by more than 30%.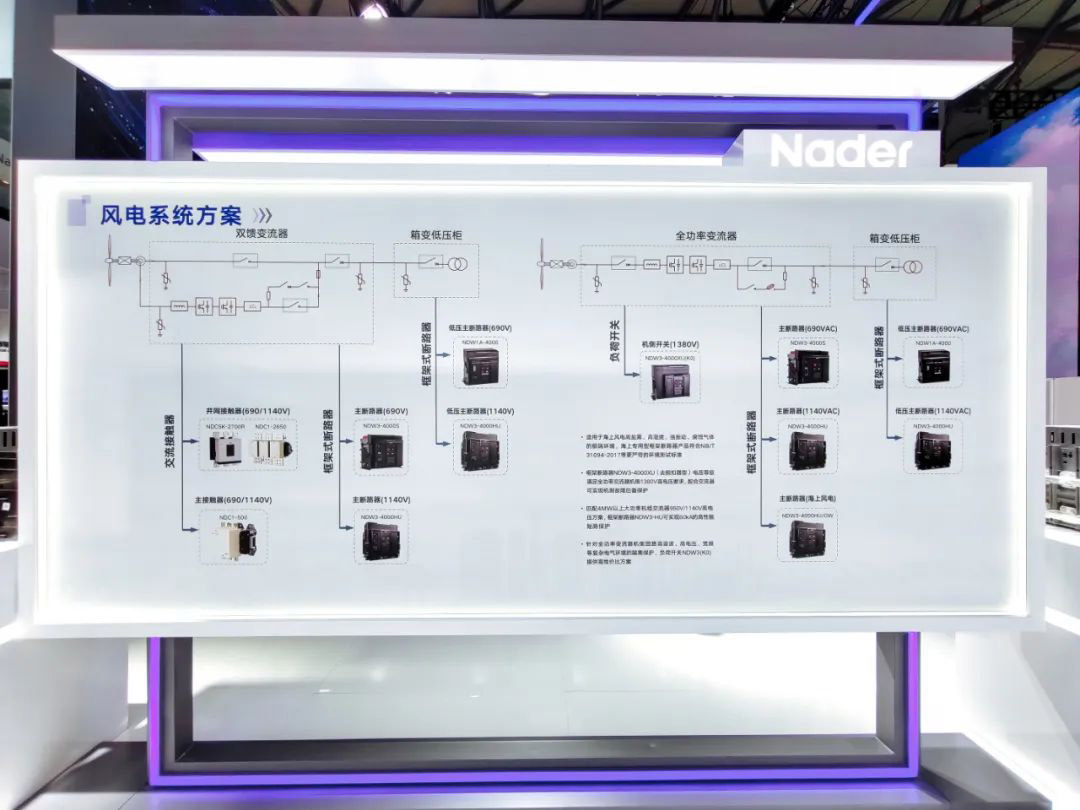 At present, Nader continues to provide mass-customized low-voltage electrical system solutions for global photovoltaic, wind power, and energy storage customers, and cooperates with Sungrow Power, Huawei, Goldwind, Longi energy, Tongwei, TBEA, Hewang Electric, etc. The customer has established a long-term strategic partnership.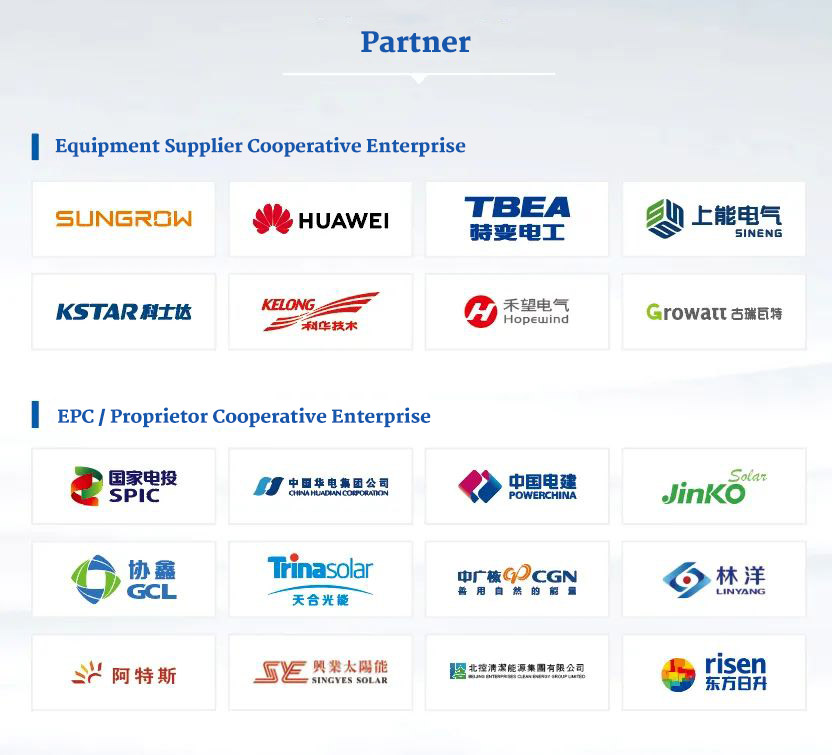 Nader has participated in a large number of projects of different specifications and scales in China: Qinghai Golmud photovoltaic application leader base project, Inner Mongolia Ulanchabu wind power base, Zhuhai Guishan offshore wind farm demonstration project, etc.

With long-term R&D investment and technological precipitation in the new energy field, Nader will always be committed to helping photovoltaic, wind power, and energy storage customers achieve commercial value and green sustainable development, accelerate the intelligent upgrade of the new energy industry, and make breakthroughs with partners "Zero-carbon" technology, forming a "dual-carbon" ecosystem for the application of renewable energy systems!